Boomette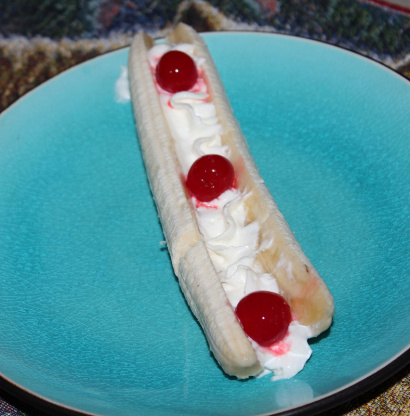 My kids like these for breakfast, but they make a great dessert or quick snack too (especially for kids). I just like the fact that my kids really like these, because it helps in my effort to encourage them to eat fresh fruit. This is so quick and easy to prepare -- no cooking, all instant ingredients. If you're in a rush, this is a quick breakfast (or dessert or snack) dish to prepare.

Quick and simple meal or snack for kids. Neighbor kids love it Made for your will Football Pool Super Bowl 2014
1

banana

1

(7 ounce) canned whipped cream (I use low-fat Redi-Whip)
Peel banana and place it on a plate. Slice banana in half, lengthwise.
Spray whipped cream on the cut surface of both banana halves. Then fold banana halves together until the two strips of whipped cream touch. Be careful to not squeeze too firmly (or the whipped cream will ooze out too far).
Add a maraschino (or two) on top.
For dessert, you can sweeten it up a bit by drizzling a thin line of caramel or chocolate syrup over the whipped cream, or sprinkling chopped walnuts, baking sprinkles, shredded coconut, or other kid-friendly treats on top.