Banana Blueberry Smoothie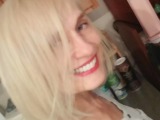 This is based on a recipe from the Bar Harbor Jam Company's, The Maine Wild Blueberry Cookbook.
Make and share this Banana Blueberry Smoothie recipe from Food.com.
Directions
Combine all ingredients in a blender.
Blend until smooth.
Reviews
Most Helpful
Loved it. I made half a recipe but with one banana. Both blueberries and banana were frozen so came out nice and thick.

Super amazing awesome!

fast and easy. Thanks!