Banana Blueberry Almond Oatmeal
MamaCoco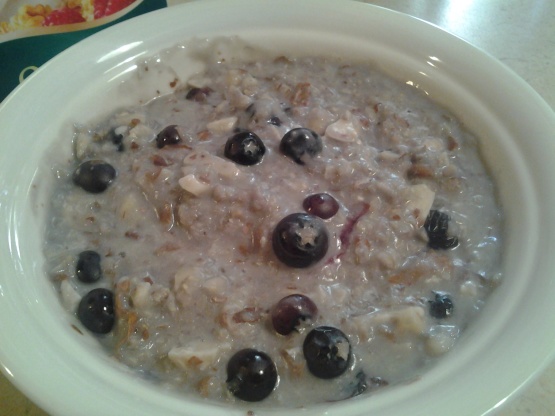 After a lifetime of eating oatmeal with brown sugar and butter, I needed to find some new recipes that weren't out to kill me. This has no refined sugar and no fat beyond what comes from the almond ingredients. The banana is the "sweetener." Hope this helps someone else!
1

cup unsweetened vanilla Almond Breeze, divided (I used BlueDiamond Unsweetened Original Almond Breeze but listed the Vanilla for nutritional accurac)
1⁄4 cup gluten-free quick oats (Bob's Red Mill)

20 -25

whole almonds, chopped

20 -25

dried blueberries (or fresh depending on the season)
1⁄2 banana, mashed (ripe, small brown spots starting to appear)
Place 1/2 cup of the almond milk in a small sauce pan and heat to boiling point.
Stir in banana, almonds and oats.
Reduce heat to simmer then add blueberries. Stir occasionally and gently if using fresh blueberries.
Add additional almond milk as oatmeal thickens, until desired consistency.