PaulaG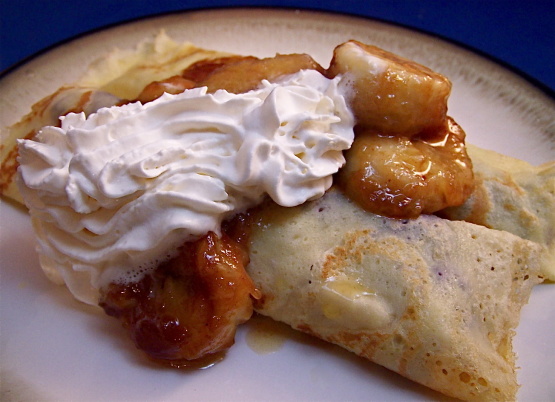 Created for Ready, Set, Cook #12. This recipe starts off with premade crepes that are stuffed with a cream cheese/yogurt sauce and blueberries. Then these crepes are covered with baked bananas that were sprinkled with brown sugar and cinnamon and topped off with whipped cream.
Top Review by PaulaG
A pretty amazing recipe! I used Recipe #19097 for the crepes. The blueberries were the small frozen berries that were rinsed and well drained. I did find that I needed additional blueberries or maybe it was just my personal preference. The method for glazing the bananas was changed. The butter, brown sugar and lemon juice were combined on top of the stove in a heavy duty skillet and when melted and thoroughly combined, the bananas were added and allowed to caramelize. Splenda Brown Sugar Blend was used for the brown sugar. Made for *Hidden Gems* Winter 2008.
Mix together vanilla yogurt and mascarpone cheese until smooth. Add Splenda, vanilla and pecans (if using) and mix well. Spoon this mixture evenly on crepes, sprinkle blueberries over the mascarpone cheese mixture and roll up with the ends left open. Place on a shallow serving tray. This may be done earlier, covered with plastic wrap and put in the refrigerator and heated to room temperature in a preheated 350 degree oven for 5 minutes.
Slice bananas crosswise into approximately 1/2-inch thick pieces and arrange in an oven-proof casserole dish. Combine brown sugar and cinnamon. Melt margarine and pour evenly over bananas. Sprinkle lemon juice over bananas and sprinkle on the sugar-cinnamon mixture. Bake in a 350 degree oven for 20 minutes. Remove from oven and spoon bananas and juice over crepes. Top with whipped cream. Serve at once.