JustJanS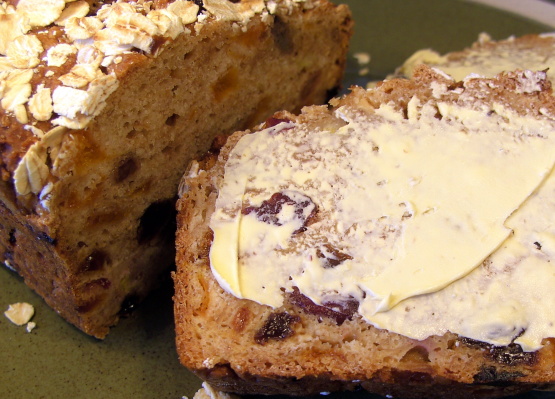 A nice loaf for the lunch box! Walnuts could be left out and any dried fruit used. I have not added the soaking time in with cooking time.

Super yummy thanks Tis and suprisingly moist considering how stiff the batter is when you plop it in the loaf tin to bake. I was worried it wouldn't have enough fruit vs flour but shouldn't have because it's great. I used a 1/4 cup sultanas and a 1/4 cup cranberries, along with the apricots, no walnuts (36g fat in the half cup of those little suckers) and low fat milk to make an extra low fat treat which fits right in to our attempt to eat lower fat but tasty.
Put the bran flakes, sultanas, apricots, sugar and milk into a bowl and mix well. Leave to soak for an hour.
Preheat oven to a moderate heat.
Grease and line a loaf pan (10 x 21cm). Add the banana and walnuts to the soaking mixture and fold in the sifted flour. Mix well and put mix into the loaf pan. Smooth the top of the loaf and sprinkle with oats.
Bake for one hour or until a skewer inserted into the centre of loaf comes out clean.
Cool loaf on wire rack.
When cold slice and serve with butter.