Ban Pan O La With Café Navarro Mango Syrup
UmmBinat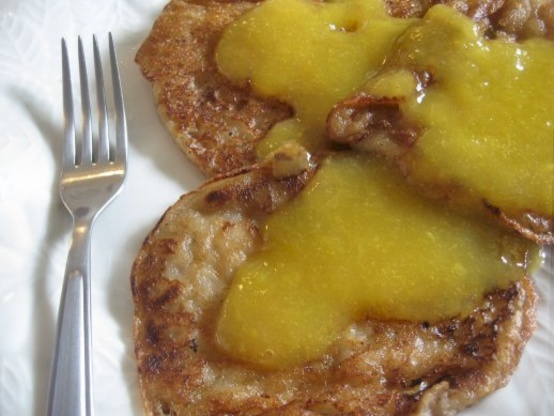 From my very favorite cookbook by Marie Simmons (now all out of print), Pancakes A to Z. She credits her son-in-law, Peter Dilcher, manager of the Café Navarro in Eugene, Oregon. With bananas & mango, these pancakes are perfect for a Caribbean inspired brunch! Posted for ZWT-5.

DD & I loved the pancakes which I made gluten free by using Recipe #342995 and incorporating chopped and mashed banana and vanilla with a dash of coconut milk to replace the buttermilk since we are dairy free. I took off a star as I didnt like the mango syrup and in fact preferred the cakes plain. They had the taste of banana fritters. I will make these pancakes again without the syrup. Photo posted. Made for ZWT5 Family Picks for Cooks With Dirty Faces.
In large bowl, sift together flours, brown sugar, baking powder, baking soda and salt.
In food processor, puree bananas (or mash well with potato masher).
Add the buttermilk, oil, egg yolks and vanilla. Process or whisk to blend.
Pour the banana mixture over the dry ingredients and stir just until blended.
In separate bowl, beat the egg whites until stiff peaks form; gently fold into the batter, just until blended.
Heat a large nonstick griddle or skillet over medium heat until hot enough to sizzle a drop of water. Brush with a thin film of vegetable oil or spray with non-stick cooking spray. (I prefer the texture the oil provides.).
For each pancake, pour 1/4 to 1/3 cup batter onto griddle. Adjust the heat to medium low.
Cook until the tops are covered with small bubbles and the bottoms are lightly browned.
Gently turn and cook until lightly browned on the other side. Repeat with remaining batter.
For syrup:.
Puree the diced mango.
In a small saucepan, combine mango puree, water & sugar.
Heat, stirring, until heated through.
Add the lime juice.
Serve warm over Ban Pan O La pancakes.