R.Lynn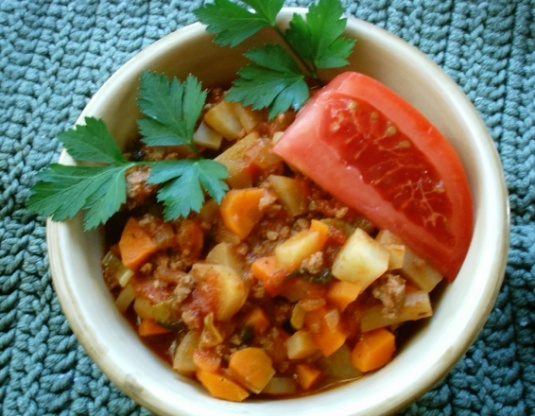 I found this recipe when trying to decide what I could do with what I had in my fridge while making something tasty. This fit the need and it's also pocketbook friendly as well as family friendly. Serve with rolls and a nice tomato or cucumber salad, a complete meal in short order. Feel free to add any veggies you have on hand.

I made this recipe, but I knew it sounded a little bland, so I jazzed it up a bit and it was fantastic! I love garlic, so I added 2 cloves of minced garlic. I also added about a Tablespoon of sugar to cut the tartness, a Tablespoon of Seasoned Salt and served it over Garlic Mashed Potatoes! I would give it five stars if it the recipe included all my suggestions. The entire family loved it, even my 18 month old.
In a skillet, cook beef and onion over medium heat until meat is no longer pink; drain. Add tomatoes, carrots, celery and potatoes. Bring to a boil. Reduce heat; cover and simmer for 30 minutes or until vegetables are tender. Sprinkle with salt and pepper.