Aram5262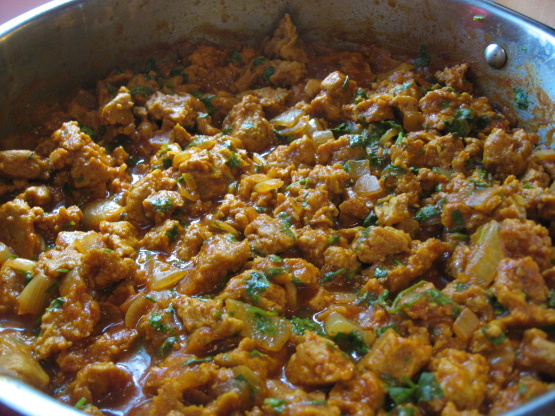 I adapted this recipe from a chicken recipe in an Indian cookbook. It's very flavorful and just the right amount of spice for my taste- but you can always make it spicier. It's my new favorite way to get protein!

This was delicious! I have made it a couple times now, and the second time around I used Quorn brand fake chicken instead, because I don't like the taste of seitan. It turned out great! I also added some fresh cilantro, and squeezed a little lime over the top when served. Yum!
Mix the tomato paste, fennel seeds, ginger, coriander, garlic, chilli powder, curry powder, turmeric, lemon juice, salt, and water in a bowl.
Heat the vegetable oil in a pan and cook the onions until they are softened.
Pour the spice mixture into the pan and let simmer.
Break the seitan into pieces and add to the pan.
Let the seitan simmer for about 10 minutes, until much of the liquid has been absorbed by the seitan or has evaporated.
Remove the pan from the heat, stir in the chopped chiles, and serve.