awalde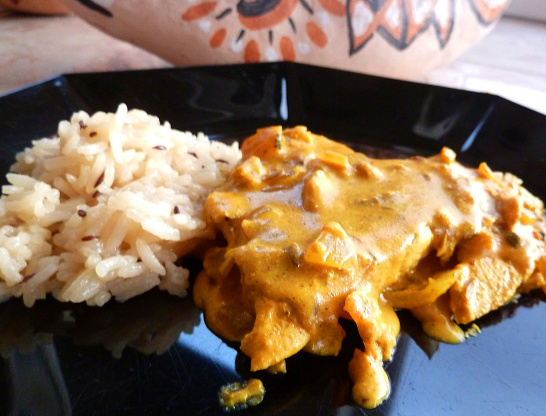 ZWT6. Balti cuisine is all the rage in England these days. It is a style of cooking which is thought to have originated in modern day Northern Pakistan. Balti dishes are very rich and flavorful and are famous for their use of highly aromatic spices. Balti Chicken Pasanda is a delicious simple curry with bold and complex flavors. The term "Balti" refers to the actual cooking vessel in which the food is both made and served. It is a rounded cast iron heavy bottom pot, similar to a wok, but with two handles. Recipe modified from Sadhana Ginde on http://www.bellaonline.com. Recipe has been updated as per JustJanS's review. Thanks!

This ended up tasting really good, but I had a few issues with the recipe. First off, it is really hard to make a recipe where the ingredients and steps in the method are all out of sync. Secondly, the recipe asks for garam masala and almond meal, but doesn't tell you when they need to go in (garam masala traditionally goes in at the end so that was what I did). Almonds are usually used as a thickener so I put them in towards the end too. And that was my third problem-the yoghurt sort of seized up when it hit the wok and curdled to a tight mass. I loosened it up with about a half cup of warm water then it was "OK". The cream at the end improved it a bit more, but it still looked a bit unappetising. However, like I say, in the end, the flavour was pretty good.
In a large mixing bowl, combine the yogurt along with the spices (cumin seeds, cardamom pods, cinnamon stick, black peppercorns, red chili powder and salt). Add the ginger, garlic and green chilies. Stir well to combine then add the chicken pieces.
Let marinate in the refrigerator (covered) for at least 4-6 hours (overnight is best).
In a large deep skillet or wok on medium high heat, add the oil.
When hot, add the onions and stir fry for 4-5 minutes until slightly browned adding garlic, ginger & thai green chilies in last minute.
Next, carefully add the chicken along with the marinade.
Add the tomato paste and stir well. Add in garam masala and ground almonds.
Reduce the heat to low and let cook for 10-12 minutes until the chicken is fully cooked and tender.
Finish with the cream and garnish with freshly chopped cilantro leaves.
Serve with fresh naans and fragrant Basmati rice.