rpgaymer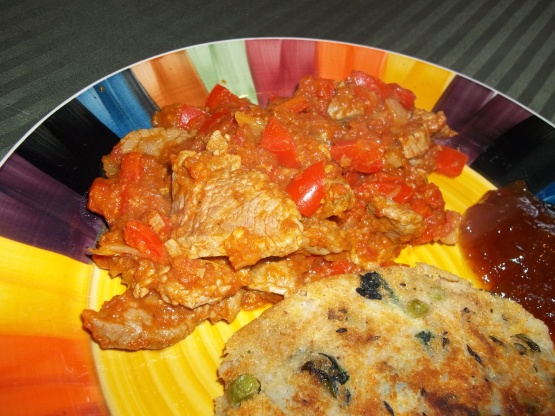 A delightful and easy mild curry adapted from "Indian...Made Simple", published by Parragon's Love Food division, no editor named. Balti recipes are usually associated with Birmingham, England, but the spice mixtures fit Indian cuisine. The Balti creators hail from the north Pakistan province Baltistan in Kashmir. Note that China, Pakistan and India all lay claim to that territory. Lamb is more typical of Indian cuisine than beef. We used venison tenderloin and our meat came out well done; next time we will cut the meat in bigger chunks as we prefer it medium rare. Note that a Vitamix can puree the sauce while it is still hot. Garlic and ginger paste is available in Indian groceries, or you can use Ginger Garlic Paste. It's a great timesaver for a great taste combination. I recommend a large wok instead of a large skillet when you cook the beef (I had red bell peppers flying everywhere).
This was a good, mild curry. I used flank steak and the meat turned out very tender. I also marinated it in some lime juice, salt & pepper just to add another layer of flavor and tenderize the meat. I topped this with some mango chutney, and it tasted great. [Made & Reviewed for PRMR]
BALTI SAUCE:.
Melt the ghee in a wok or large skillet over medium-high heat.
Add the onions and garlic and ginger paste and stir-fry for about 5 minutes, until the onions are golden brown.
Stir in the tomatoes, then add the paprika, turmeric, cumin, coriander, red chili powder (cayenne), cardamom, bay leaf, and salt and pepper to taste.
Bring to a boil, stirring, then reduce the heat and simmer for 20 minutes, stirring occasionally.
Let the sauce cool slightly, then remove the bay leaf and pour the mixture into a food processor or blender and process to a smooth sauce.
BEEF:.
Wipe out the wok and return it to medium-high heat. Add the ghee and melt.
Add the onion and garlic and stir-fry for 5-8 minutes, until golden brown.
Add the bell peppers and continue stir-frying for 2 minutes.
Stir in the beef and continue stirring for 2 minutes, until it starts to turn brown.
Add the balti sauce and bring to a boil. Reduce the heat and simmer for 5 minutes, or until the sauce slightly reduces again and the bell peppers are tender.
Adjust the seasoning, if necessary.
Garnish with cilantro sprigs and serve with Indian bread.