Balsamic Vinegar and Butter Glazed Carrots
lets.eat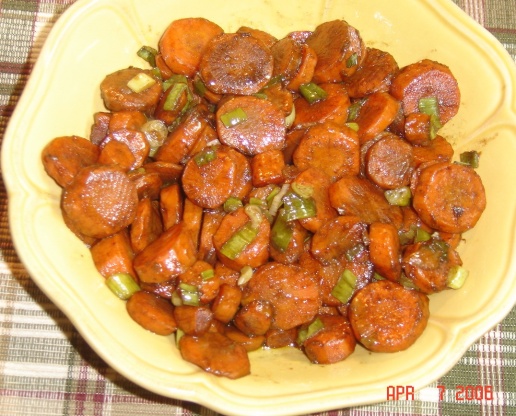 I love balsamic vinegar and this would be a great addition to any meal.
My husband is not a huge cooked carrrot fan....he asked what I did to make the carrots SO good this time!!! I used only 2 t. of sugar and just a tad less than half a cup as I don't like my carrots too sweet. Theese went together exactly as the directions said and they turned out perfect. I KNOW these will be a repeat in our home.
3

ounces butter

1

lb peeled baby carrots or 1 lb regular carrot, peeled, cut into 2-inch pieces, halved lengthwise

1

tablespoon sugar
1⁄4 cup balsamic vinegar
1⁄4 cup chopped fresh chives
Melt butter in a large pot over medium heat. Add carrots and sauté 5 minutes. Cover and cook until carrots are crisp-tender, stirring occasionally, about 7 minutes. Stir in sugar and vinegar.
Cook uncovered until carrots are tender and glazed, stirring frequently, about 12 minutes longer. Season to taste with salt and pepper. Add chives and toss to blend.