Kree6528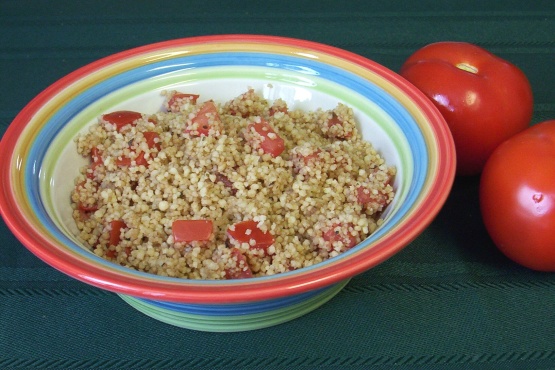 We had a potluck to attend where we had been asked to bring a side dish. I was craving couscous though I knew few (if any) of my friends would be willing to try it. Never mind, I moved forward! This is a slight adaptation of one I found in one of my favorite cookbooks "500 almost fat free pasta recipes." And truth be told, I brought very little home and got asked for the recipe!

Wonderful flavor! I LOVE couscous and am always looking for a new way to make it. This was quick, easy and a hit with my family- even my two year old! You could easily add chopped cucumbers to this or small cubes of mozerella and a few basil leaves for a 'Couscous Caprice' kind of feel!
In a medium pan, bring the broth to a boil.
When it is boiling add the basil and garlic and stir. Then add the couscous, cover the pan, and remove it from the heat. Let sit 5-10 minutes.
Chop the tomatoes.
In a small bowl mix the balsamic vinegar, the oil, and the pepper. Add the tomatoes.
When the couscous is ready add the tomato mixture and mix well.
Serve hot or cold.