PaulaG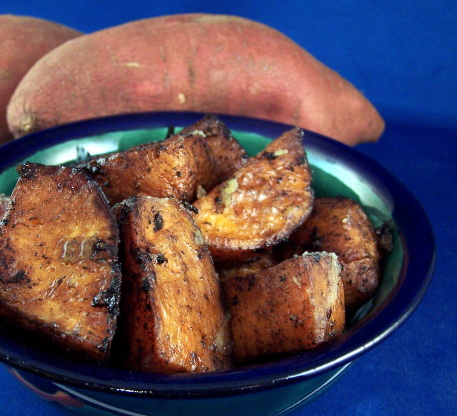 I just found this recipe in a cooking magazine and can't wait to try it!

The kids ate this happily with no dip, I think that speaks for itself. Very good. I threw everything except the yams into a frying pan and waited for it to thicken at med-high heat, then tossed in the yams and tossed them to cover well. Then put them on a cookie sheet lined with non stick foil. Clean up was easy, prep was easy, perfect!
Preheat oven to 400°F.
Place balsamic vinegar and brown sugar in a large skillet and bring to a boil over medium heat, stirring until sugar dissolves.
Reduce heat and simmer 3 minutes or until the mixture thickens slightly.
Add butter and salt and stir until butter melts.
Add yams to the pan, stir to coat and season with black pepper.
Spread evenly on a rimmed cookie sheet.
Bake 40 minutes, or until yams are tender, stirring occasionally.