Balsamic Roasted Onions and Potatoes
Bev I Am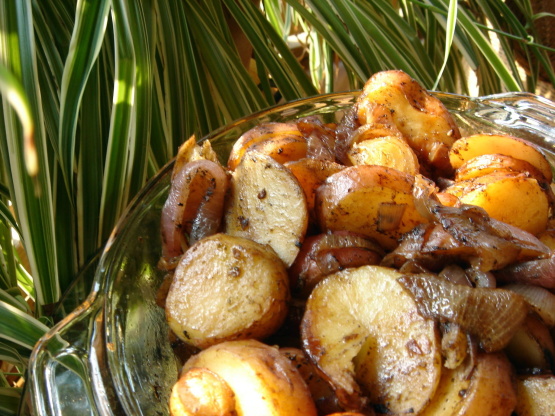 Rustic country cooking from Italy.

If you like Balsamic Vinegar (like I do) you must try this recipe. I'm a big fan of any kind of roasted vegetables and this recipe was wonderful. What's not to like when you have butter, onions & potatoes! I cooked mine in the skillet until they were a little "crusty" so I cut down on the baking time in the oven. Great recipe - thanks Lorac!
1

lb red onion, peeled and sliced 1/2 inch thick

3

lbs potatoes, peeled and sliced 1/2 inch thick

1

cup butter
salt & freshly ground black pepper

6

fresh sage leaves, finely chopped
3⁄4 cup balsamic vinegar
Preheat oven to 400°F.
Melt butter in a large skillet, add onions and potatoes and toss to coat.
Cook over medium heat, turning occasionally until vegetables are golden brown.
Season with salt and pepper, add sage and 1/2 the vinegar and mix.
Place in an ovenproof dish, cover and bake 20 minutes.
Add remaining vinegar, bake uncovered 20-30 minutes or until potatoes are tender.