Balsamic Roasted Chicken Thighs
teresas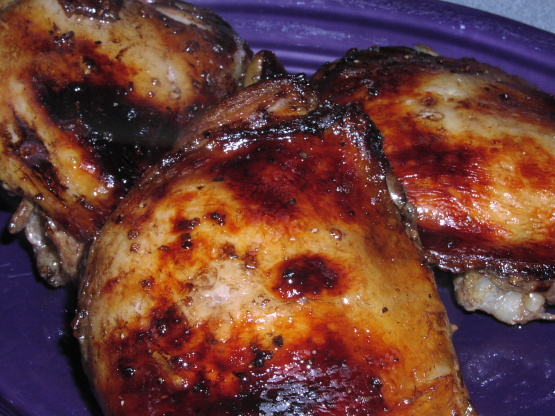 In 'Don't Panic More Dinner's in the Freezer

I found this very delicious...I skipped the freezing part and went straight to the cooking...I did slip the thighs under the broiler for a few minutes to give them a more of crispy skin and to help brown them...This is very easy to prepare and I'm planning to make them again using the freezing method...thanks for posting.
Cooking Day: mix oil, vinegar, garlic, salt, and pepper in a small bowl.
Transfer marinade to a large freezer bag.
Add chicken to bag, turning to coat thoroughly; remove as much air as possible, and seal bag.
Take a cake pan, or another pan with sides and lay bag flat; place pan in the freezer and flash freeze.
Once flash frozen, remove bag from pan and place bag inside freezer.
Serving Day: defrost meal--place in the refrigerator with a pan, plate, or bowl underneath to catch the extra moisture (or leaks) from defrosting; thaw chicken completely.
Place chicken, skin side up and well coated with marinade, into rimmed baking pan or dish.
Roast, uncovered in a 350° oven until brown and cooked through, about 35-40 minutes.
*Chicken may also be grilled over med-hot coals until cooked through, turning once.
Per serving--225 calories, 20.1 g fat, 0 g fiber.