Balsamic Roast Chicken and Vegetables
Prep 15 mins
Cook 1 hr 30 mins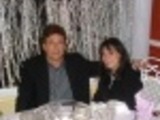 This is an easy one-dish dinner that even your teenager or husband could get on the table! It is true comfort food and nice during the colder months.
5 onions, peeled
1 (16 ounce) bag baby carrots
6 red potatoes, scrubbed and cut into quarters
2⁄3 cup bottled balsamic vinegar and oil salad dressing, divided (or more to taste)
salt and black pepper, to taste
6 sprigs and 1/4 cup chopped fresh parsley
1 (4 1/2-5 lb) whole roasting chickens
Directions
Preheat oven to 375 degrees. Spray a large nonstick roasting pan with non-stick cooking spray.
Cut 4 of the onions into quarters. In a medium bowl, toss the onion quarters, carrots and potatoes with 1/2 cup of the salad dressing (use more if not fully coated) and place in roasting pan.
Slice the remaining onion and place the slices inside the chicken (after removing giblets from the cavity of the chicken) with the 6 sprigs of parsley.
Place the chicken, breast side up, on top of the vegetables in the roasting pan. Brush the chicken with 1 T. of the salad dressing and sprinkle it with salt and black pepper.
Bake the chicken in the preheated oven for about 1-1/2 hours, or until an instant-read meat thermometer registers 180 degrees. While the chicken is cooking, brush it with the remaining salad dressing and pan drippings every 30 minutes.
Remove the onion and parsley from inside the chicken and discard.
To serve, carve the chicken and sprinkle the vegetables with salt, black pepper, and the chopped parsley.
Reviews
Most Helpful
How easy can you get? Throw everything in the pan and roast! And the end result was delicious. Cooking time was perfect. the only change I would make next time is to add a few cloves of garlic to the vegies.

This tasted wonderful. Instead of 5 onions, I used 1 large one and added garlic.
This was truly a delicious dinner and everything cooks together -- it can't get better than that. We absolutely love baked chicken and the balsamic vinaigrette really adds a delicious flavor to both the chicken and the veggies. My chicken took longer than the 1.5 hours and I added some butter to the veggies later in the cooking process as one reviewer suggested. Can't wait to make this again. Made for the For Your Consideration tag game.