Balsamic Pan Seared Pork Chops
Kay D.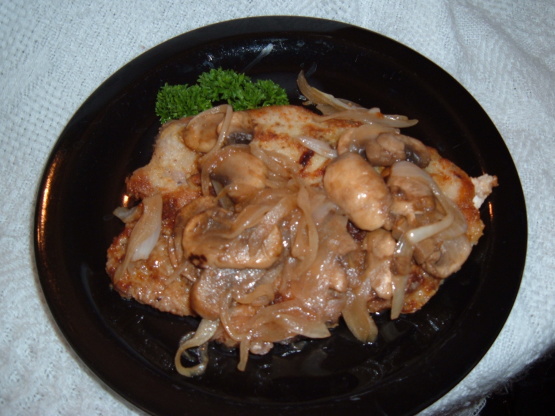 The mustard idea I got from Wolfgang Puck on a recipe he used with Ribeyes. I substittuded sauted onion rings for fried,pork for beef, added the shrooms and tomato. Came out fantastic, with requests to do it again.

This was really delicious and so easy! Perfect for an after work dinner. I used cherry tomatoes which were a bit sweeter!
Season chops lightly with salt and pepper.
Heat oil in non-stick pan to HOT.
Spread mustard on ONE side of each chop, lightly dust that side with flour Sear mustard side of chops in pan for 6 minutes.
Turn and sear for same time, remove to platter.
Add onion, tomato, mushrooms, butter - stir 'till onions are cooked, but still crunchy.
Add balsamic and stir for one minute.
Pour skillet contents over pork chops and serve.