Balsamic, Orange, Honey, Maple Syrup Glazed Duck
JustJanS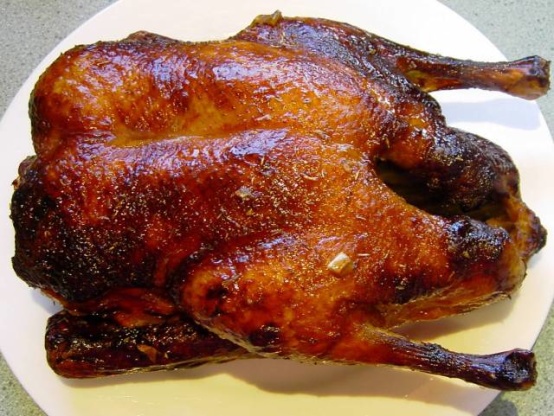 I went looking for inspiration for my duck I bought for dinner. Eventually I found it on the bag the duck came in!

Two days ago a friend, who is a hunter, helped us to clear our overgrown garden; he brought me two wild ducks to prepare while the guys sweated in the garden. When I saw this recipe, I knew that was it. As it were wild ducks which have almost no fat at all, I halved them, placed them in a baking pan and first roasted them with some coconut oil for about ten minutes. Then I poured a cup of hot chicken stock into the pan and basted the duck halves with the glaze, covered the pan and cooked the birds at 180 degrees Celsius for 1 1/2 hours in the oven. After 1 1/2 hours, I removed the cover, flipped the halves over and basted the other side with the rest of the glaze, switched on the oven grill and grilled them for about ten minutes. Our hunter friend, who has cooked hundereds of wild ducks in his life, raved over it, and so did my DH (and me, of course!). Best duck ever, Ernst the hunter said. They both told me to rate this recipe with 15 stars :-) I suppose it will become famous round here. Thanks for sharing this!!
Preheat oven to 190c.
Mix all the ingredients (except the duck!) together in a small saucepan and simmer for 5 minutes.
Reserve 1/4 of the glaze.
Sit the duck on a rack over a baking dish, baste and place in oven.
Baste the duck every 10 minutes throughout the cooking process with remaining 3/4 of glaze.
A 2kg duck should take about 1 hour 15 minutes to cook, but give one of his legs a pull, and if it moves freely and any juices run clear, your duck will be cooked.
Place on a serving platter brush with reserved glaze and serve.
Pass any remaining reserved glaze to be spooned over carved duck.