Balsamic Mustard Chicken with Potatoes
vrvrvr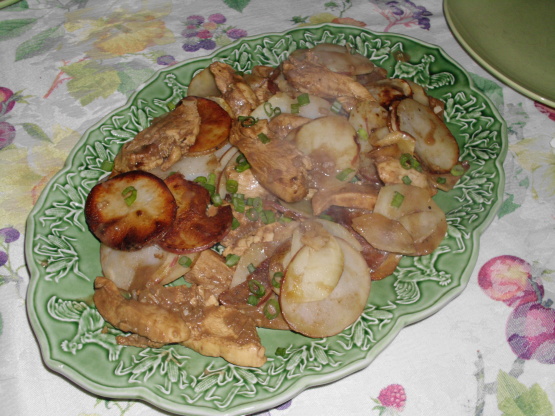 A substantial, warming dish for dreary days. From Chicken by Fiona Biggs

Top Review by vrvrvr
It was okay. Strange dish, though. And the cooking instructions were frustrating. I used an extra large skillet, and there was no way I was going to dump in raw chicken and marinade all over my crispy potatoes. So I took them out of the skillet and cooked the chicken separately. The marinade was very sharp, with all those pungent ingredients, and didn't taste very good in the pan. I added the potatoes back to the pan and poured in the chicken broth, per the instructions, which then gave us thinly sliced totally non-crisp potatoes. The potatoes did help to balance out the puckery tang of the marinade. I thought the plate needed something green to make it look a bit better (muddy brown being the predominant color) so I sprinkled green onion over the top, which was actually a nice addition. The taste was good, and that was a relief, because I really didn't enjoy making this very much. Oh well! Served with roasted asparagus.
In a shallow dish, combine mustard, vinegars, garlic, onion and 1 tbsp canola oil Add the chicken, cover, and marinate in refrigerator for 30 minutes In a large pan, warm remaining canola oil over medium heat.
Add potato slices and cook until slightly crisp Add the chicken and marinade to the pan Cook for 10-15 minutes, until chicken cooked through Add chicken broth and simmer for 5 more minutes Serve hot.