Balsamic Mushroom Chicken
Mika G.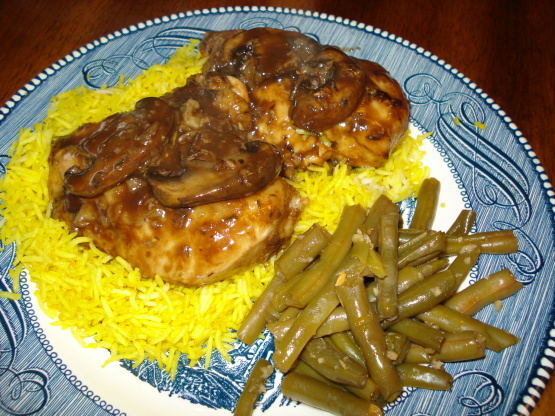 This recipe was published in a free cookbook put out by Empire Kosher Poultry to celebrate its 50th anniversary. It is very easy to prepare and very good with rice.

Top Review by Barb R
The flavor of this dish is exceptionally good. I used a little Italian Seasoning in addition to the thyme. I also agree with Jenny's review, you do want the sauce to be thicker - cornstarch worked, too. The sauce is so great, you don't want to waste a drop! Thanks!
Dust the chicken lightly with flour and brown in 1 tablespoons of the olive oil over medium heat, about 2 minutes on each side.
Remove the chicken, set aside.
Add the remaining tablespoon of oil to the pan and saute the garlic cloves and mushrooms about 3 to 5 minutes, or until most of the moisture from the mushrooms has evaporated.
Add the vinegar, broth, bay leaf and thyme; cook about 5 minutes over medium heat until reduced slightly.
Return the chicken to the pan, cover, and simmer another 2 to 4 minutes or until cooked through but not overdone.