Balsamic Marinated Tomato and Mozzarella Salad
CIndytc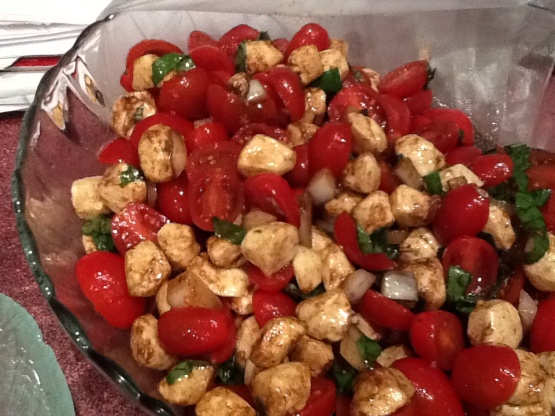 A perfectly simple salad marinated in a combination of olive oil and balsamic vinegar and kicked up with onion, garlic and basil. The longer it sits, the better it gets. Also great served over pasta.

I made this for July 4th and everyone loved it. Like other reviewers, I used fresh baby mozzarella balls and white balsamic vinegar. I also used kosher/sea salt, freshly ground pepper, and shallot instead of onion since that's what I had on hand. The basil looks especially nice if cut chiffonade style (long, thin strips). Just stack all your basil leaves neatly, roll the pile up long ways like a cigar, and then cut crosswise with scissors or a sharp knife. Easy, and faster than chopping. Also, I recommend making this salad ahead of time. I made it the night before and the flavors really changed for the better overnight.
Mix together first five ingredients for dressing and toss in cheese and tomatoes.
Chill until ready to serve.