Balsamic-Honey Roasted Root Vegetables
KellyMae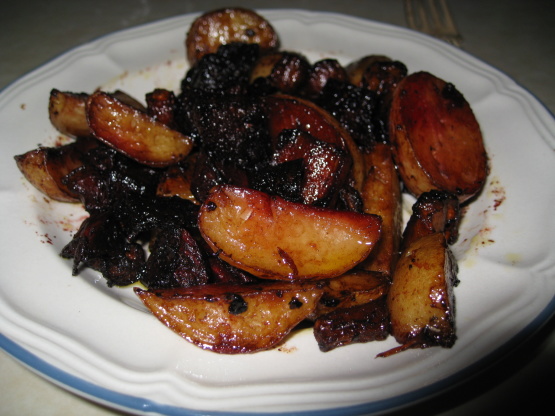 This is an easy, inexpensive, stress-free recipe even a beginning cook could whip together. Perfect for fall and winter. This dish is usually served hot, but is also very tasty cold, either by itself or mixed in with spring greens and a balsamic or "goddess" dressing. You can easily substitute other root vegetables if you don't have these on hand - Try celery root, baking potatoes, red beets, etc.
Tasty, tasty! I used only what I had on hand---red beets, sweet potato, and parsnips---and subbed agave for honey. Beautiful color and texture! Excellent side for an otherwise "beige" meal---I served this with chicken loaf and pasta with Alfredo sauce. Mmm!
5

large carrots, unpeeled, in 3/4 inch slices

1

large yam, peeled, in 1 x 1 inch cubes

1

large rutabaga, peeled, in 1 x 1 inch cubes

4

turnips, peeled, in 1 x 1 inch cubes

1

large parsnip, in 3/4 inch slices

3

yellow beets, peeled, in 1 x 1 inch cubes

6

garlic cloves, unpeeled

3

stalks celery, in 3/4 inch slices
1⁄4 cup olive oil
1⁄4 cup balsamic vinegar
1⁄3 cup honey

1

teaspoon garlic powder

2

teaspoons fresh rosemary, minced
1⁄2 teaspoon salt
fresh ground black pepper, to taste

2 -3

small boiling potatoes, in 1x1 inch cubes (Yukon or New varieties) (optional)
Preheat oven to 375 degrees.
Cut the bottom 1/4 inch of each garlic clove off but do not peel cloves.
Toss ingredients in a deep baking dish.
Roast, uncovered, for approximately 30 minutes or until all vegetables are soft throughout.
Toss vegetables and turn heat up to 400 degrees. Roast until vegetables are browned and caramelized (15-20 minutes).
Serve hot or at room temperature.