Balsamic Honey Mustard Dressing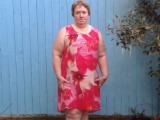 Low-fat and tastes good. Really good over a chicken and avocado salad or just a plain green salad.
Make and share this Balsamic Honey Mustard Dressing recipe from Food.com.
Directions
Blend honey and mustard in a small bowl with a fork until emulsified.
Drizzle in the balsamic vinegar until dressing is just thin enough to pour over salad.
Taste and add more vinegar if desired.
Crush the peppercorns with a mortar and pestle or in a spice grinder.
Mix in dressing and drizzle on salad.