tamalita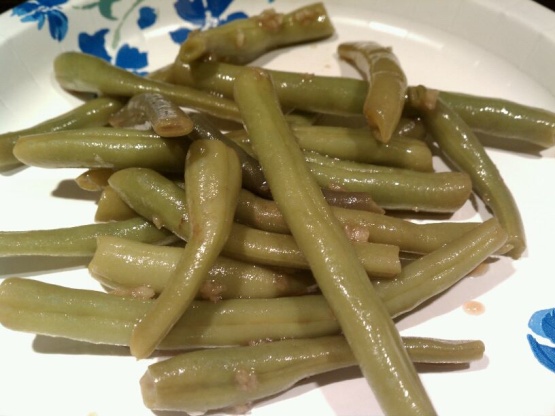 Bear with me on these, this is one of those recipes that I just throw together and don't really know the exact amount of ingredients I use. So I took a gander here, the best I can tell you is keep tasting and add more of this or that until you get the taste you like. Once you do I promise these will be a BIG hit, they are DELICIOUS! I have made them both cold and warm--I prefer them cold. Enjoy.

Top Review by Manda
These were wonderful!! Had a pile of green beans that I bought on sale, and had no idea what to do with them...until I found this recipe!! I must admit, I did go with the fresh garlic, but other than that I didn't change a thing. Wonderful!! Thank you!!! ~Manda
Drain green beans and cool to room temperature.
Add all ingredients and mix together thoroughly.
Put in refrigerator to chill for at least 2 hours.
Don't saturate the green beans in liquid, add just enough to moisten and for flavor.