Balsamic Fried Eggs With Wilted Greens (In Under 10 Minutes)
COOKGIRl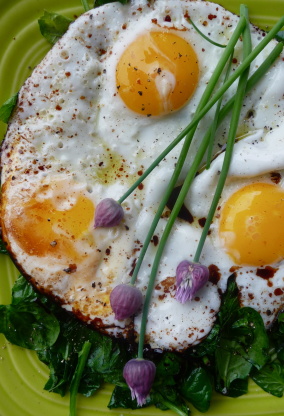 This recipe is sooo fast and easy and adds a very interesting flavour dimension to simple fried eggs! You can use dandelion greens, beet greens, escarole, or arugula. I personally love arugula. If you like onions, you can add some chopped onions to the pan with the garlic. This recipe is from chowhound.com.

Terrific, savory breakfast! I made it with egg whites only and dandelion greens. The peppery greens with the sweetness of the balsamic reduction made for a beautifully balanced flavor profile. Farm-fresh white peaches sliced on the side were equally tasty with the left over reduction. Thanks for posting!
29.58

ml olive oil

1

medium garlic clove, finely chopped

170.09

g arugula (about 1 small bunch) or 170.09 g escarole (about 1 small bunch) or 170.09 g beet leaves (about 1 small bunch) or 170.09 g dandelion greens, washed, thoroughly dried, and coarsely chopped (about 1 small bunch)

4

large eggs

59.14

ml balsamic vinegar
Heat 1 tablespoon of the oil in a large nonstick frying pan over medium heat. When oil shimmers, add garlic and cook until it just starts to color, about 30 seconds.
Add greens and season with salt and freshly ground black pepper. Cook until just wilted, about 1 minute. Immediately remove from heat and divide greens between two serving plates.
Wipe out the pan, return it to medium heat, and add remaining 1 tablespoon olive oil. When oil shimmers, add eggs and fry until set, bubbly and brown on the edges, and the pan is almost dry, about 3 minutes.
Carefully add balsamic vinegar and cook until vinegar is reduced and syrupy, about 2 minutes. Place two eggs on each mound of greens, evenly divide vinegar reduction, season with freshly ground black pepper, and serve with toasted bread.