Balsamic Chicken Thighs with Red Onions
Derf2440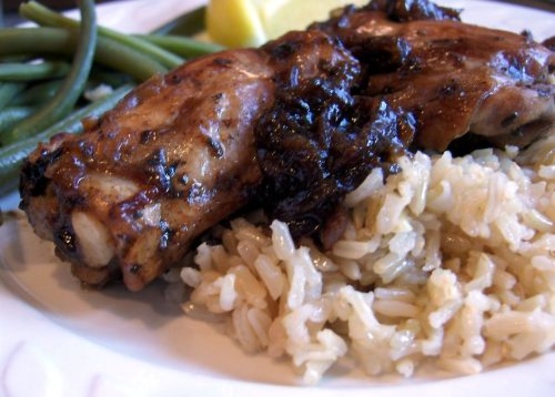 I like using balsamic vinegar in my cooking, and this recipe is no exception: You can substitute chicken breasts, but I'd advise against it -- The thighs are higher in fat, but taste much better. Note: Very good over cooked rice.

THis was great! I seared the thighs in a littel olive oil before I threw the onions in the pan and it made the final product kind of crispy on the outside. I didn't try it the other way but I would make it this way 100 more times! Thanks for the great recipe Bansidhe...
Heat the oil in a large, non-stick pan, high heat.
Cut onion into thin rounds.
Add 1/4 tsp. pepper and 1/8 tsp. salt.
Saute, cooking about 5 minutes.
Reduce to med-high.
Add chicken, 1/4 tsp. pepper, 1/8 tsp. salt, marjoram and oregano.
Cook 2 minutes, and then add balsamic vinegar.
Stir and reduce heat to low, cover, and simmer for 25-35 minutes.
Cook uncovered for another 2-4 minutes, until sauce has reduced somewhat.
If you want to garnish the dish, sprinkle with chopped parsley and serve with lemon wedges.