SharonChen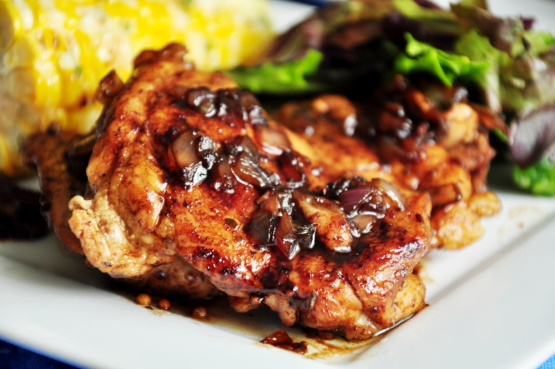 This is a quick and easy recipe that never fails to please even my picky DDs. Since chicken thighs are usually inexpensive it makes a economical meal. I like to serve these with some type of rice side dish and a green salad.

Wow!! You people weren't kidding, this IS an amazing recipe. Just like everyone says: easy and delicious. I used red onions instead of shallots, and drained some chicken grease out before adding them. Next time I'll try the shallots, but it was outstanding even with onions. BEST meal I've had in a long time. I'll be making this for company to show off a little you can bet! ;)
Spray large frying pan, preheat.
Rinse and pat dry thighs.
Season with salt and pepper.
Brown well on all sides.
Cover, reduce heat to medium and cook for approximately 25 minutes,or'til thighs are done depending on size.
Add shallots,cook for 2-3 minutes,until they soften.
Stir in balsamic vinegar, cook for about 1 more minute,turn chicken to coat thoroughly.
Spoon sauce over thighs to serve.