Balsamic Chicken Sandwich (Or Panini)
Kim127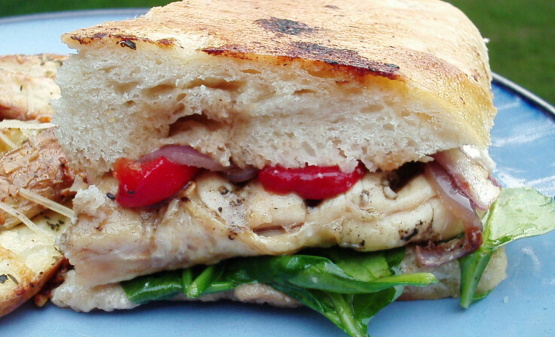 A friend of mine and I once made this from a recipe we found in a cooking magazine, but lost the recipe. I found it again, so I'm putting it here so as not to lose it again. It calls for ciabatta bread, but anything light with a good crunchy crust will be as good. It's also great grilled panini-style.
For me this is panini with potential. I found the wine/vinegar/sugar syrup too sweet and by the time it cooked down it had a almost carmelized after taste. I ended up making more w/o the sugar and cooking it less, so that it was less syrupy but had a better flavor. I had left over grilled chicken which was great with the roasted red pepper and red onion. I dislike goat cheese so left that out, I had planned to sub fresh mozzarella but it had turned sour , so to keep it from being too dry I added some fresh pesto aioli, which turned out to be perfect with it. For bread I used baquette slices. I will try this again with a cheese substitute. Thank you Emmy sharing your recipe. Reviewed by a Chic Chef for ZWT4 Italy - Panini Challenge
1

tablespoon olive oil
salt and pepper

2

ciabatta rolls, sandwich size

2

tablespoons goat cheese

1

cup baby spinach leaves
1⁄2 red onion
1⁄4 cup roasted red pepper

1

cup white wine
1⁄2 cup balsamic vinegar

2

tablespoons sugar
Salt and pepper chicken breasts.
Heat olive oil in a nonstick skillet over medium high heat.
Cook chicken until no longer pink, about 4-5 minutes per side.
Remove chicken, keep warm.
Add wine, sugar, and vinegar to pan, increase heat to high, reduce until thick and syrupy.
Cut rolls in half, spread with goat cheese.
Add chicken, spinach, onion, peppers, and sauce.
You may have sauce left over. Save it. It's great on steaks, too.