Balsamic Beets and Greens
PaulaG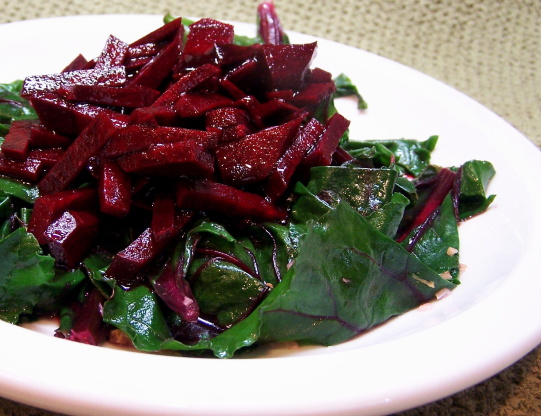 Beets are a good source of potassium and vitamins C and A. Not to mention they taste good too! Adapted from Great Good Food Cookbook by Julee Rosso.

I loved it. The only problem I had was that my 4 cups of greens was not enough for my sliced beets! But really that is no problem...I kept eating them out of the marinade anyway, do I'll just eat them up by themselves. Made for Zaar Stars tag.
Whisk the vinegar, olive oil, sugar, and mustard together in a bowl.
Toss with the beets and marinate at room temperature for at least 1 hour.
In a large, skillet, heat the oil over medium heat.
Place the garlic in the pan and saute for 1 minute.
Add the greens, lemon juice, salt and pepper to taste.
Cook for 2-3 minutes, stirring well.
Cover and cook until the greens are wilted, about 5 minutes.
Divide the hot greens among four salad plates and top with the beets and vinaigrette.
Serve immediately and enjoy!