Balsamic-Beer Flank Steak
Boomette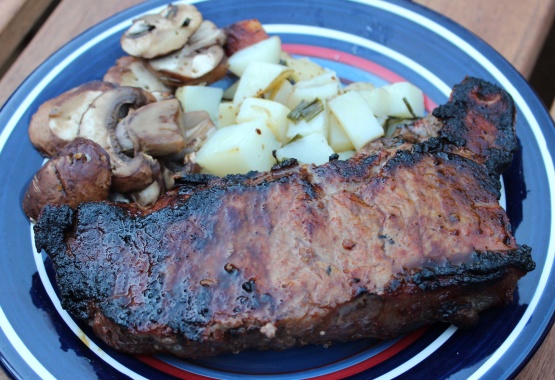 Try this on your barbecue. Great with a green salad and rice or pasta. Marinating time is not in prep time.

My flank steak was only about 1 lb, but made the full marinade recipe. Used a meat tenderizer to punch multiple holes on both sides of steak. Only marinaded about 2 hr, but the mechanical tenderizing sped the process. Grilled on high heat to sear and finished to medium rare. Sliced in 1/4 inch slices and served with marinade that had been heated and reduced, rice, and succotash. Excellent dinner.
Pierce meat with a fork several times.
Place in a plastic bag.
Mix other ingredients and pour over meat.
Marinate in fridge 12 hours or overnight.
Broil or grill steak over medium high heat 5 to 6 minutes per side.
Let meat rest 5 minutes when done.
Boil marinade in saucepan for 5 to 10 minutes until slightly thickened.
Slice steak into thin strips and top with sauce.