Balsamic and Garlic Marinated Steak
Bergy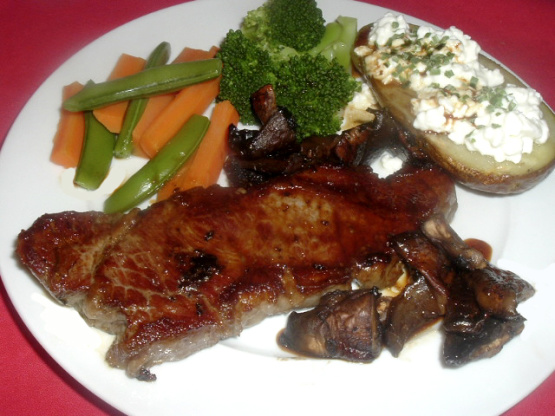 Make sure your grill is hot before adding your steak. A hot grill quickly sears the outside of the meat, sealing the meat so it stays juicy and tender. Adding a packet of potatoes or vegetables while the steak cooks will save you time and work and supply you with a great side.

Update Jan 09. I marinated a Flank Steak and it was "The Bomb". If it has too much heat for some of your guest.... Serve some sour cream... Thanks again! This was good..... I used a nice and large NY. I am not much of a chili sauce fan but it provided just the right amount of HEAT! I will definitely make this one again with a cheaper cut of meat and let it site over night. Thanks!
Mix all the ingredients except for the steak in a shallow glass dish or a food storage bag.
Add steak, turning to coat.
Cover the dish or seal the bag.
Refrigerate at least 8 hours or overnight, turning occasionally.
Remove steak from the marinade; reserve marinade.
Grill over direct high heat for 5 minutes; turn steak and sear the other side.
Move steak to a cooler part of the grill; cover and grill until desired doneness, turning and brushing with reserved marinade once or twice. (This is a good time to place packet potatoes or a vegetable packet over the hot side of the grill to go with your steak. Don't forget to turn them occasionally while your steak cooks).
Discard any remaining marinade.
To serve, cut beef into slices across the grain into slices.