Balsamic-And Dijon-Glazed Ham With Roasted Pearl Onions
Igway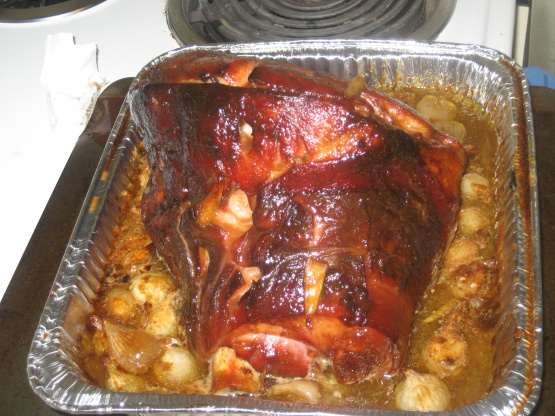 This ham will take center stage at any holiday meal!
Four or five years ago, we were hosting a much bigger crowd than usual for Thanksgiving. My kids are all wild about Honey-Baked Hams and were disappointed when I told them I just couldn't afford one because of all the extra guests. So I went looking for a really special substitute and found this recipe in Bon Appetit. Oh, the compliments! Everyone agreed that although it was different from H-B, it was every bit as good. (I say *better*, since it cost about $20 instead of $85!) I omit the onions because they're a huge amount of work and nobody was wild about them the one time I included. If doing the ham only, I'd recommend adding the pepper and a small portion of the butter to your glaze. Also, if using a spiral-sliced ham, it will tend to dry out if you cook it as long as recommended for a shank. Try adding some water and a little of the leftover glaze to the pan drippings for a great ham gravy. (Add a little cornstarch if you want it thicker.)
Cook onions in large pot of boiling salted water 2 minutes; drain.
Trim root ends, leaving base intact.
Peel.
(Can be made 1 day ahead. Cover and refrigerate.) Preheat oven to 325.
Combine sugar, vinegar, and mustard in bowl for glaze.
Transfer onions to 11x7x2-inch glass baking dish.
Add 2/3 cup glaze, butter, 1 teaspoon salt, 1/4 teaspoon pepper, and 1/2 cup water; toss to coat.
Cover with foil.
Line large roasting pan with foil.
Making 1/2-inch-deep slits, score ham with diamond pattern.
Place ham in pan and roast 45 minutes.
Place onions in oven.
Roast ham and onions 25 minutes.
Uncover onions.
Continue roasting onions and ham 50 minutes.
Baste ham with some of glaze.
Continue to roast ham and onions until deep brown and glazed, brushing ham with glaze every 10 minutes, about 30 minutes longer.
Transfer ham to large platter.
Transfer onion mixture to bowl.
Serve ham, passing onion mixture seperately.