Balmain Bugs (Shrimp) With Mango Sauce
Peter J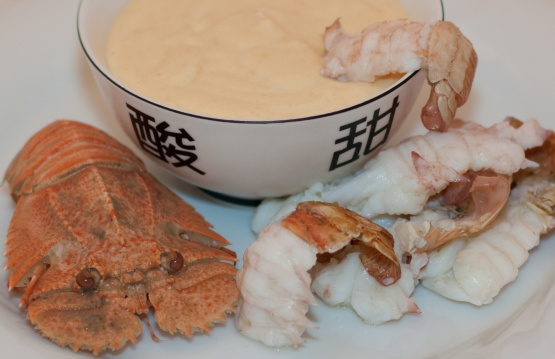 A delicious-sounding recipe from the Land Down Under. The recipe calls for Balmain bugs, which the Zaar database won't accept, so I've put very large shrimp in their place (a fine substitute).

Simply amazing! I found the posted amounts gave a perfect consistency and loved the sweet flavour of a nice ripe mango with just the hint of sour from the lemon and tang of the chili sauce. Being an Aussie I used Balmain Bugs but the substitutes listed would be great as well, using prawns / shrimps though I'd stick with the very large U6 or U8 size (less than 6 or 8 per pound) that have a similar taste to the bugs. Given the sauce can be made in advance and refrigerated and all the options can be cooked on a BBQ it would also make a great summer time outdoor meal as well.
Lower shrimp (or bugs) into large pan of lightly salted boiling water. Simmer uncovered for 4-5 minutes or until shells have changed to an orange red color. Gently separate the heads from the bodies. Use a pair of sharp kitchen scissors to cut along the soft underside of the bugs. Pull shell apart and ease out the flesh. Cut each piece of flesh in half, lengthways.
To make the mango sauce: peel the mango(s), remove the seeds and roughly chop flesh. Place flesh in a food processor. Add sour cream, juice, sugar and sauce. Process for 20-30 seconds or until smooth. Refrigerate, covered, until needed. If the sauce is too thick, add a little extra cream or juice.
Dip your bugs into the sauce like a shrimp cocktail and enjoy!