Bally's Casino Bread Pudding
eboni504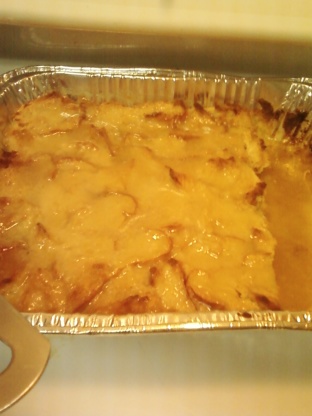 I just adore simple homey but elegant custardy bread pudding. This one is adorned with the most wicked bourbon sauce ever devised. Such a combination! Saved forever! From The Times-Picayune - "Bally's Casino first shared this recipe in 1996, then it was reprinted in Sept. of 2006 for a reader who had a copy on her refrigerator when Katrina came through St. Bernard Parish. The pudding was very light and fluffy, she said."

I want to start by saying thank you God!!! I used to work for Bally's Casino of New Orleans about 12 years ago. At this time, I thought my mom had the best Bread Pudding on that side of the Mississippi..[she still runs a close race].. When I ate the Bally's Bread Pudding..I was floored..oh my goodness... it was amazing. I had searched high and low and asked so many people if they knew how to make a mean pudding with "that sauce" on it. No one knew.. So about a year ago I googled "Bread Pudding/Bally's Casino" and voila!!!! I finally made it for Thanksgiving 2012 and I tell you...this is the best desert I have ever had. I mean, I thought I made a fabulous sweet potato pie [and i do]...but this was beyond amazing.. I made it with Puerto Rican Rum [sauce] instead of boubon...[thanks to the liquor store clerk].. For anyone who loves bread pudding...please give this recipe a try!!
Preheat oven to 350 degrees. Tear bread into 2-inch pieces and place in 9-by-13-inch baking dish. Add raisins; set aside. In large mixing bowl, beat eggs with wire whip until well blended. Stir in milk, sugar and vanilla. Pour over torn bread and push bread down with fingers until saturated. Let soak for 3 minutes.
Place pudding pan in larger pan, then fill larger pan with about one inch of hot water (to come halfway up sides of pudding pan). Bake for 65 minutes.
Meanwhile, in medium saucepan melt butter on medium heat (do not boil). Add both sugars and beat with wire whip until creamy. Remove pot from heat and beat in whipping cream and salt. Add bourbon and beat thoroughly. You may pour the sauce over the entire bread pudding or over individual servings.