Starrynews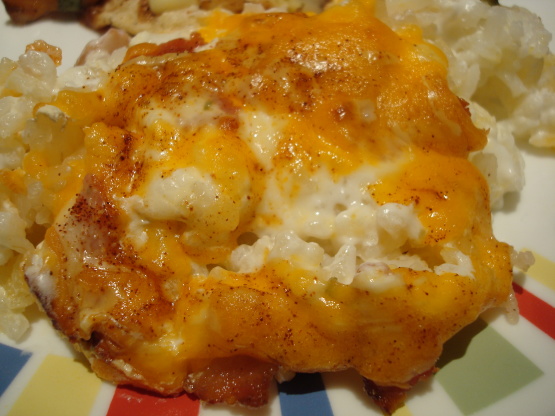 My daughter's boyfriend's mom gave her a cookbook that was created by the Houston Ballet for their Nutcracker Christmas Market in 1984. The recipes in the book were submitted by directors, choreographers, and dancers in the Houston Ballet that year. This recipe was submitted by Jeanne Doornbos, Soloist.

Nice zip from the jalapenos. I used the suggestion to make individual servings in ramekins, as there were only two of us. Thanks for sharing!
Cook the rice according to package directions. Cook and crumble the bacon. Mince the jalapenos. Slice the Monterey Jack cheese into thin slices.
Layer 1/2 of the rice in the bottom of a greased 8x8 casserole dish. Dot with butter and add salt and pepper to taste.
Cover with 1 cup of sour cream, 1/2 of the jalapenos, 1/2 of the bacon, and 1/2 of the Monterey Jack cheese.
Repeat the layers.
Top with grated cheddar cheese and a sprinkling of paprika.
Bake at 350 degrees for 30 minutes.