GaylaJ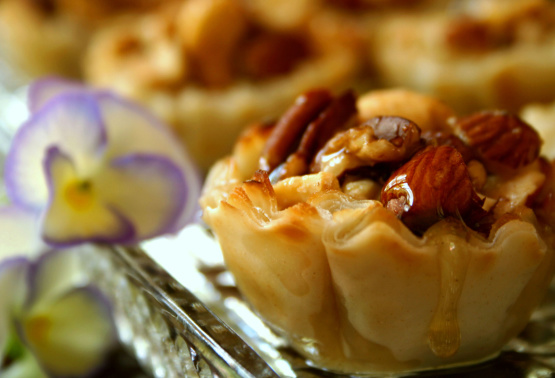 I made the most wonderful Baklava on ethnic night in gourmet class. I hadn't made it in a while and started craving it when I saw this little shortcut in a magazine at the doctor's office. (The best part about the wait is scanning the magazine rack!) Also, if you want to get even more fancy and creative, top with a dollop of Nutella or chocolate fudge, or even an chocolate mint bar.

Nice and simple dessert. I sampled a couple different combinations. The first combination included walnuts, pecans and pistachios. I wasn't a big fan of the pistachios. The secound round, I mixed pecans, sugar, cinnammon and nutmeg and loved it. The third combination, I used roasted chopped pecans with sugar and drizzled nutella, which I loved.
Preheat the oven to 350 degrees.
Place the shells on a baking sheet.
Mix the sugar and chopped nuts and fill the shells.
Bake for 8 minutes or until the shells are lightly browned.
Mix the honey and water in a small bowl and drizzle over the nuts.
Serve warm or at room temperature.