Boomette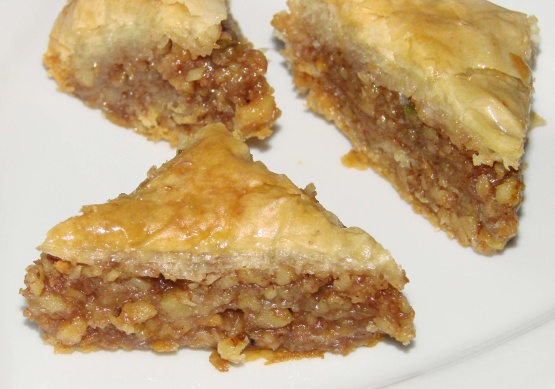 This authentic recipe was given to me by a Greek co-worker. This is a delicious, sweet, finger-licking Greek dessert. When you are working with phyllo dough, keep a slightly damp towel over your phyllo sheets so they don't dry out. When peeling off a phyllo sheet from the stack, do so by one end and pull away slowly to avoid tears. Small tears won't matter too much in this recipe. However, if you completely rip up a phyllo sheet just discard it and try again!
It was my first time doing baklava and using phyllo dough. I bought refrigerated phyllo dough which was very easy to work with. I needed almost 1 1/2 cup butter. I used walnuts but I'll have to try with pistachios. I didn't have enough sugar, so for the syrup, I used 1 1/4 cup sugar and 3/4 cup splenda. It worked :) I used 1 tablespoon cinnamon. Next time I may try with cardamom but a little bit less, or both combined together. I used brandy. I didn't think there was too much syrup. Baklava are made that way ;) And next time after the syrup is poured, I'll add finely chopped nuts on top to make them even more beautiful. Thanks LifeIsGood :) Made for the Zwizzle Chicks of ZWT
Preheat oven to 375 degrees F.
Melt butter (start with 2 sticks - you can always melt another stick if needed) and crisco together. Coat the bottom and sides of a 9 x 13 baking pan completely.
Layer phyllo dough for bottom crust: Lay down 1 sheet of phyllo and completely brush with melted butter. Continue until you have 6 buttered sheets of phyllo.
Mix the nuts, sugar and cinnamon together. Sprinkle some of this mixture over your bottom crust.
Then lay down 2 layers of phyllo, one at a time - each sheet needs buttering. Sprinkle another coating of your nut mixture. Continue alternating with 2 layers of buttered phyllo and a sprinkling of the nut mixture. (Make sure you have at least 6 sheets of phyllo dough left for your top crust. ).
Lay your 6 phyllo sheets, 1 buttered at a time, to create your top crust. Use remainder of butter over top of crust. (If you didn't have enough butter, you could melt more.).
Score pieces diagonally.
Bake uncovered for about 30 minutes, or whenever browned.
Turn oven down to 350 degrees F. and cover baklava with foil. Continue baking for another 30 minutes.
Meanwhile make your syrup:.
Boil sugar and water together. Add honey, lemon juice and brandy.
Turn to low heat, stirring, until the mixture thickens. This should take approximately 10 minutes. Let cool.
When baklava is done cooking, pour the cooled syrup all over the top, while the baklava is still hot. Cool the baklava and finish cutting. Keep in a cool place.