916101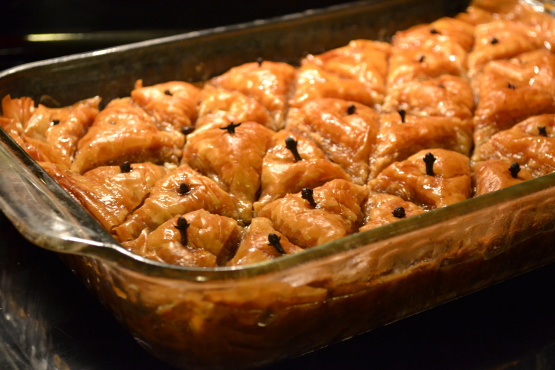 Top Review by nickos
Ah, what a shame to see that this greco-turkish conflict is still to be found in recipes...Yet I cannot do anything but support the fact that baklava is from the middle east and that it was imported to greece during the Ottoman occuppation. Anyway, great foods to be found in both countries.
Combine all ingredients for syrup in saucepan, bring to boil, simmer for 10 min., strain, and allow to cool.
Mix egg, sugar, cinnamon and allspice well.
Coarsely grind or chop walnuts and almonds; mix thoroughly with bread crumbs and egg, sugar, cinnamon, allspice mixture. Brush a 9"x13"x2" pan with butter; lay sheet of filo in bottom; brush with butter; cover with another sheet of filo; brush with butter, and repeat process until you have used a dozen sheets.
Then spread 1 thin layer of nut mixture on top of filo; cover with sheet of filo; brush with butter; cover with another layer of nuts and repeat process until all nuts are used.
Cover with remaining filo sheets; brush ea. sheet with butter.
With a very sharp knife, cut the top filo sheets into triangles (cutting diagonally across pan). Insert clove in center of ea. triangle.
Bake (350 degrees F.) for 1 hr. until baklava is evenly browned.
Remove from oven; pour cooled syrup evenly over it, so that it penetrates the layers.
Cool several hrs. before serving.