Axles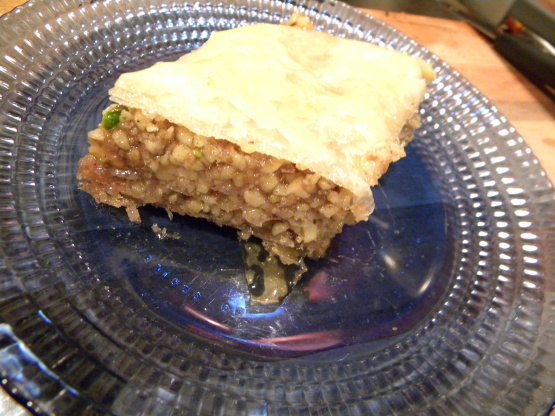 Great tasty arabic baklava

Top Review by Axles
I've never had Baklava. I've never worked with filo dough. I am a food blogger and I am cooking from every country in the world and when I googled Jordanian recipes, I found this one. It looked straightforward enough, and I had the filo dough already in my freezer, so I thought I would give it whirl. This is utterly delicious! It's actually pretty easy to do once you get the hang of it and remember to keep the dough covered with a damp kitchen towel. I'll admit that there also was a recipe for baklava on the filo dough box, and it was a bit different than this one, so I did make a few adjustments to fit our tastes. I added in 1-1/2 teaspoons of cinnamon and 1/2 teaspoon of ground cardamom into the nut mixture. I also added the zest of the lemon that I juiced into the syrup along with a teaspoon of vanilla because I thought the vanilla would add a warmth to the flavor of the nut mixture that I was looking for. I will use this recipe over and over again because I now have a new favorite dessert. You can view more step by step photos of this recipe on my blog http://lifeinanarv.blogspot.com Thanks for a wonderful recipe!
To make the sugar syrup:.
In a pan put the water and sugar and heat until boiling.
Once it start boiling add the lemon and leave in for another 15 minutes until the syrup start thickening.
Set a side to cool.
To make the baklava.
- Preheat oven.
- Brush the surface of the baking tray ( square or rectangular shape 24 x40 cm) with oil.
- Melt the butter or the ghee.
- Put on layer of dough in the baking tray and brush it with the ghee, repeat 6 times.
- On the side mix the walnuts with the sugar and the pistachios.
- spread the walnut mix equally on top of the dough.
- spread ¼ cup of the ghee on top of the walnuts.
- put another dough on top of the walnut and brush it with ghee.
- repeat the last step 12 times.
- wet your fingers with water and gently wipe the last dough.
- brush the last dough with ghee generously.
- cut the baklava into small squares.
- Put the baklava in the oven.
- Bake on 325 for about half an hour then on 450 for the last 5-10 minutes until it turns golden and crunchy.
- Take the baklava out of the oven and immediately pour the cooled sugar syrup on it.
- Serve at room temperature.