Junebug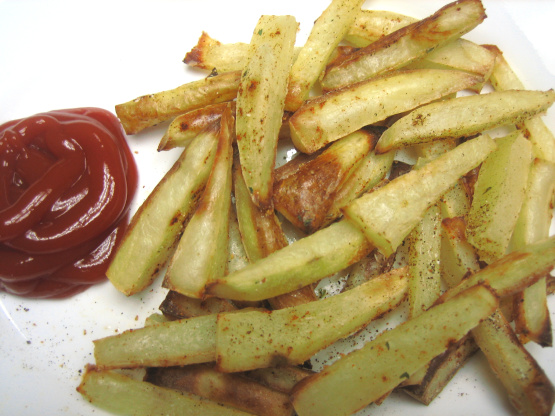 These chips are great, vary the flavor to your liking. I use no oil but if you wish spray the chips with a little oil,before putting in the oven and spray again when you turn them. You really don't need to! Try sprinkling them with salt and Adobo spice -

These were so fantastic- the baking pans seemed to add the proper touch of crisp to the potato skin (which, actually, I left on). I used sea salt, pepper, and a splash of vinegar. Who needs ketchup??
2

large russet potatoes, cut french fry chip style
salt & pepper
Mrs Dash's extra spicy seasoning (or any other spice blend you like with potatoes)
Peel and cut your potatoes into french fry chips.
Place in cold water until you want to cook them, this removes some of the starch from the potato. Heat oven to 375°F.
Place a circle of baker's paper on the cold stone, already set in the handle (rack), the paper just protects the stone and makes for easy cleaning.
Dry the potatoes on paper towels and sprinkle them with salt pepper and your favorite spice blend (or garlic powder) Arrange them on the baking stone and place in the oven.
After about 20 minutes take stone out of oven and turn the chips over.
Return to oven and continue baking for a further 15-20 minutes or until they are brown and puffed.