PaulaG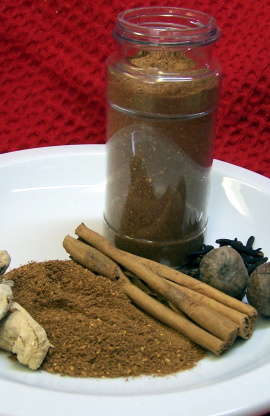 This is a wonderful mix that is quick to mix up and will keep up to 6 months when stored in a container with a tight-fitting lid. Use this mix to add zip to cake batters, quick bread, whipped cream, pancakes, muffins, etc. If the recipe calls for various spices, just add up the amounts and sub this spice blend. Yet another great recipe from More Make-A-Mix-Cookery

The blend here is just wonderful and fragrant, with the orange zest making this different from a most gingerbread or pumpkin pie spice blends. I love this spice blend and have found myself using it well beyond baking. It has become one of my favorite additions to my morning oatmeal along with diced apples, pears or peaches; as a toping on baked sweet potatoes or applesauce; and, most recently, mixed with Splenda and a pinch of salt as a topping for popcorn. I'm sure there are many other uses waiting to be discovered. Thanks Paula!
In a small bowl, combine all ingredients with a wire whisk until thoroughly blended.
Pour mixture into a 1/2 cup container with tight-fitting lid, label and date.