Baker's Fabulously Flawless Fudge
Brenda.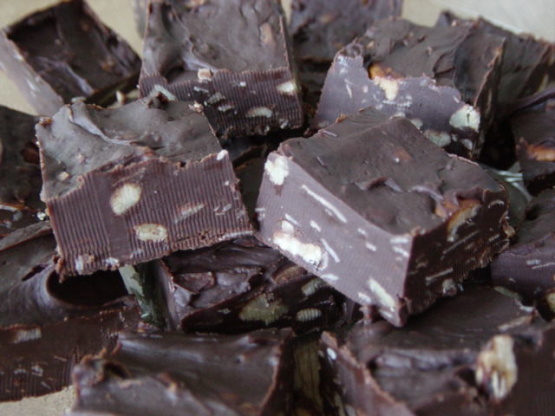 This is from a REALLY old edition of Reader's Digest. I request this for my birthday instead of a cake. I think it is divine. Very rich though, beware! I usually omit the nuts and it still turns out just fine. (Cook time is chill time)

Hi Saturn: This is fabulous fudge! I make it even lower calorie by using unsweetened chocolate. Still very rich. I also often add 1 tsp espresso powder to the recipe to make it even richer. If I don't want to eat the whole tray myself, I make it for 1 as follows: 1 square unsweetened chocolate 2 T sweetened condensed milk 1/8 tsp espresso powder 1/2 tsp vanilla 1 T water Melt chocolate in micro; stir in milk and rest of ingr. Then add: 1/4 C nuts (I like walnuts) spread into small pan and let cool cut into squares Thanks Judy in WA
Spread nuts on cookie sheet and bake at 350°F (180°C) for 10 minutes to toast; cool.
Melt chocolate with milk in large microwaveable bowl in microwave on HIGH 2 to 3 minutes or until chocolate is almost melted. Stir until chocolate is completely melted.
Stir in vanilla and nuts. Spread in foil-lined 8 inch (20 cm) square pan.
Chill 2 hours or until firm. Cut into squares.
VARIATIONS: PEANUT BUTTER FUDGE - Omit nuts. Drop 1/2 cup (125 mL) peanut butter by teaspoonfuls on top of fudge. Swirl with knife to marble.
WHITE CHOCOLATE LAYERED FUDGE - Prepare fudge as directed using 3/4 cup (175 mL) nuts, 1 pkg (225 g) Baker's Semi-Sweet Chocolate, 3/4 cup (175 mL) sweetened condensed milk and 1 tsp (5 mL) vanilla. Spread in prepared pan. Melt 1 pkg (170 g) Baker's White Chocolate. Stir in remaining 1/2 cup (125 mL) sweetened condensed milk. Spread over dark chocolate layer. Chill as directed.