Baker's Angel Flake Coconut Macaroons
Toni-Ann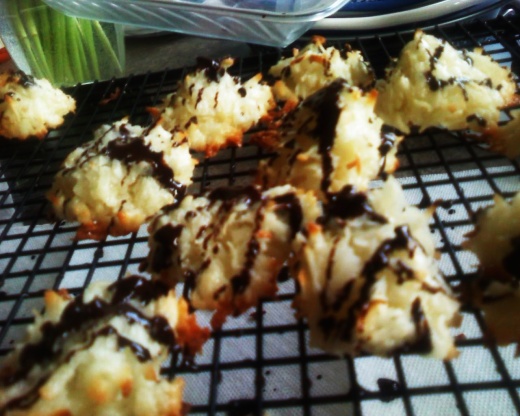 This is from the back of the Angel Flake bag of coconut. Soft, chewy, toothsome, with just a hint of almond flavor. Yummmmm. Let them 'ripen' a few hours before serving to let them soften. The edges can be a bit crispy straight from the oven.

Very good, to simple to prepare, tastes wonderfully of coconut. Definitely use parchment paper to line your pans and macs will lift off easily. I have been making this recipe for years (it is on the back of the bag of coconut). Quality improves when kept in a tight fitting tin. The cookie tends to soften just a bit and is even more delish if that is possible.
Great recipe for little children to make, because of its ease and short list of ingredients
To make these cookies even more special, top with marishino cherry before baking.
Mix coconut, sugar, flour and salt in a large bowl. Stir in egg whites (not whipped) and almond extract until well blended. Drop by tablespoonful onto greased and floured cookie sheets.
Bake 325F for 20 minutes or until edges of cookies are golden brown. Immediately remove from cookie sheets to wire racks. Cool completely.