Lex317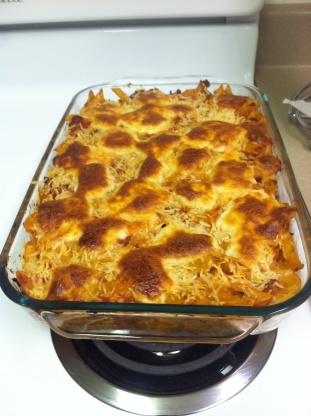 A classic Italian dish, but created in no time flat! I usually double the sauce recipe and freeze the leftovers for up to 2 months. That way we can have ziti anytime of the week!

This is great! The sauce especially will be made again and again. I used about a teaspoon of red pepper flakes, which was perfect -- spicy, but not too hot. Next time I will cut my mozzarella cubes a bit bigger, because the ones I stirred in completely "disappeared" into the whole dish, and I had been looking forward to some gooey bites amongst the pasta and sausage. I forgot to butter the pan, but luckily it didn't stick! I baked it for 35 minutes, with the result a bit browner on top than pictured, so I think next time I'll pull it out after 30 min. Thanks, Team Rocco, for a keeper! (Reviewed for PAC '09)
To make the Sauce:.
In a large pot, brown Italian sausage over medium high heat until cooked through. About 5 minute.
Reduce heat to medium, add onion and garlic. Cook until opaque. About 3-4 minute.
Combine tomatoes, Italian seasoning, red pepper flakes, and salt/pepper with onion, garlic, meat mixture and bring to a boil.
Reduce heat to a simmer and cook covered for about 10 minutes, stirring occasionally.
Baked Ziti:.
Cook pasta according to package, generally about 9-11 minutes for al dente.
Halve the mozzarella. Cut half the portion into cubes, and the other half into thin slices (should look like discs, which will go on top of the pasta).
Combine drained pasta with sauce, cubed mozzarella, 1/2 the parmesan cheese, and a pinch of red pepper.
Place the combined pasta/sauce/cheese into a buttered 9x13 pan (I like to use my Le Crueset, presents better at the table).
Top with remaining mozzarella slices and parmesan cheese.
Bake in a 400°F oven for 45 minutes until the pasta is bubbly and the cheese is golden brown.