SharonChen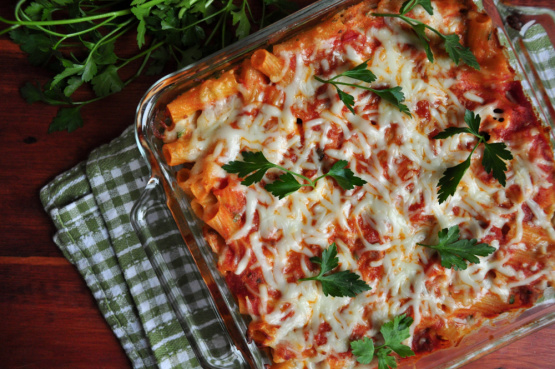 Good Italian comfort food!

This received my DH's approval as a keeper recipe (I let him think he has a choice ;0) I added about 1 1/2 cloves of minced garlic to ricotta and used 4 1/2 c of recipe #22782 sauce, it already has sausage in it and the amount of sauce/sausage was perfect. I make big batches of the sauce and freeze it in 4 1/2 c portions for lasagna or meatball subs and now ziti, it works great! I reserved 1 c sauce for topping and added an extra 1/2 c cheese to fully cover. The dish I used was 2 1/2 qts and it was filled to the brim! Baked about 20 minutes uncovered, covered it for 17 minutes and then took out and let sit for 5 minutes uncovered. Thanks for the recipe!
Preheat oven to 350 degrees fahrenheit.
Cook ziti according to package directions; drain; set aside.
Mix ricotta, egg, parsley, 1-1/2 cups of the mozarella cheese, and parmesan cheese in a large bowl.
Mix cooked sausage and pasta in with ricotta mixture.
Mix in 3/4 jar of sauce.
Transfer mixture into a 2 quart casserole dish.
Top with the rest of the sauce and mozarella cheese.
Bake for 30 to 35 minutes, or until hot and bubbly.
To freeze: Cover dish with foil and freeze. When frozen you can pop it out of the container and put in a freezer bag if desired.
To heat: Thaw. Preheat oven to 350 degrees Fahrenheit. Cover and bake for 20 minutes. Uncover and bake for 10-15 minutes more.