Parsley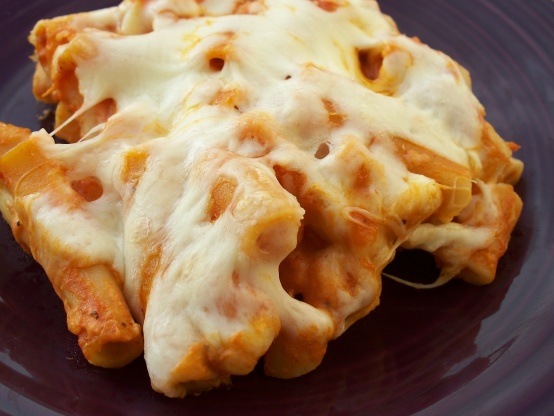 With this recipe you don't need to boil the pasta separately. Just mix everything in a bowl and then bake. Now that's comfort food.

This recipe is SUPER EASY and quick. I added ground beef and it was perfect!!! Thank you so much for sharing KelBel!
Preheat over to 400°F.
In a large mixing bowl combine spaghetti sauce with sour cream. Stir in broth.
Add 1/2 cup Mozarella and 1/2 cup Parmesan cheese.
Stir in ziti and blend well.
Pour out into 9x13-inch baking dish, cover with foil, and bake for one hour.
After one hour, take out baking dish, uncover (carefully—very hot steam), and sprinkle with remaining cheeses.
Return dish to oven without cover and bake 5 more minutes, or until cheese is melted.