GaylaJ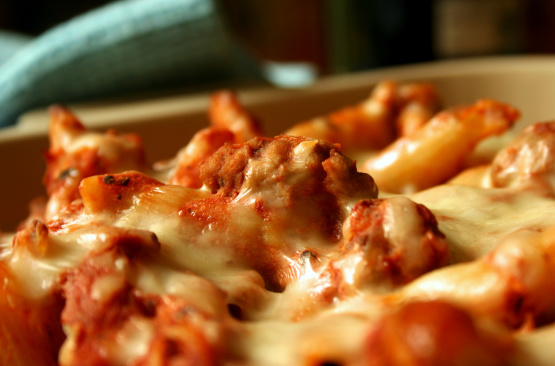 Everyone has a baked ziti, but this one has been tweaked to be as Weight-Watchers points friendly as possible. It's not Core, unfortunately. (To much cheese)

Top Review by GaylaJ
Wonderful comfort dish on a rainy night. I halved the recipe (baking it in a smaller dish) and subbed Barilla Plus (multigrain) penne for the whole-wheat ziti, as it seems to go over better around here. And I guess I should confess that I added more mozzarella, but at least I did use the 2% called for. :) This was another choice for the Pick A Chef game that we really enjoyed--thanks for posting!
Sautee onions in a spray of oil until translucent, add garlic and continue cooking.
Add peppers and cook for about 5 minutes more, or until peppers start to get soft.
Add turkey, basil, oregano, and pepper flakes, and begin cooking over medium heat.
When turkey is cooked, remove from pan along with the veggies. Drain out the liquid at the bottom. Return the meat and veg back to the pan, add the tomatoes, crushed and the paste. Stir together and bring to a boil, reduce heat and simmer for about 20 minutes.
Meanwhile, prepare pasta according to directions. Cook until very al dente. Set aside and allow to cool, spraying with olive oil and tossing to prevent sticking. You can also toss it with a little olive oil, if you don't have a sprayer.
Combine the sauce, ricotta and about 2/3 of the mozzarella cheese with the pasta and pour into a 9x13 baking dish that has been lined with foil Sprinkle with remaining mozzarella cheese.
Cover with foil and bake at 350 for 40 minutes, or until bubbly. Remove the foil and bake another 15-20 minutes or until brown on top. If you can stand it, let it set for about 20 minutes more.