Kiki723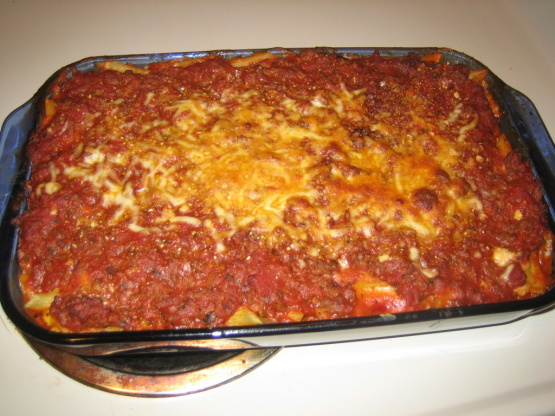 I'm not a big fan of ricotta, so when I found this recipe, I had to try it. I'm so glad I did! While not a pronounced flavor, the sour cream adds a creaminess to the recipe. A big hit with my picky son! I leave out the ground beef for my vegetarian DH.

So I have been making another baked ziti recipe that I wasn't the biggest fan of until tonight. While at the grocery store I found this recipe on my cell phone through an app for a different website and decided to try it. So glad I did. This was delicious. Made it almost exactly the same except added minced garlic to the mean and onion while it browned and increased the cheese a lot since we LOVE cheese. Great flavor and so tasty.
Bring a large pot of lightly salted water to a boil; Add ziti pasta, and cook until al dente, about 8 minutes; drain.
In a large skillet, brown onion and ground beef over medium heat; Add spaghetti sauce, and simmer 15 minutes.
Preheat the oven to 350F (175C).
Butter a 9x13 inch baking dish.
Layer as follows: 1/2 of the ziti, Provolone cheese, sour cream, 1/2 sauce mixture, remaining ziti, mozzarella cheese and remaining sauce mixture; Top with grated Parmesan cheese.
Bake for 30 minutes in the preheated oven, or until cheeses are melted.