Baked Tuna Filled Tomatoes
Tisme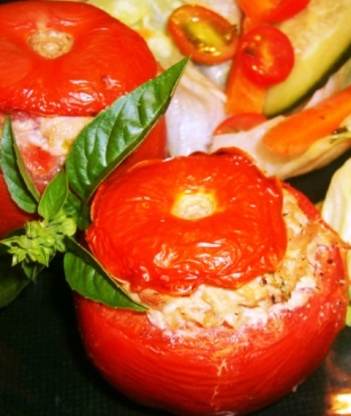 Tuna stuffed tomatoes baked in the oven. A great meal if served with a salad or veges, or great as an entree. Makes 8

Top Review by Tisme
Great recipe to serve as a lunch or entree as **Jubes** says. I think I should have left mine in the oven for another 5 minutes, but they still tasted very good anyway. I used mint leaves, but next time I am going to use basil, and also just a few more onions. I actually was able to fill 9 tomatoes with this recipe. A great easy recipe to serve with a nice salad on a hot day. Thanks JUBES another great recipe to add to the list!
Preheat oven to 180°C.
Cut a thin slice from the top of each tomatoe. Set aside for later use.
Scoop out the tomato flesh. Roughly chop the flesh.
Place the tomato shells into a greased ceramic or glass dish.
In a medium bowl- combine the cream heese, lemon rind and 2 tablespoons lemon juice and mix until well combined. Stir in half of the tomato flesh, tuna, onions and the mint.
Spoon the mixture into the tomatoe shells. Replace tomato tops. Season with salt and pepper.
Bake approx 35 minutes or until the tomatoes are just tender. Do not overbake as the tomatos will collapse and not hold their shape.
Serve warm or at room temperature.