Tisme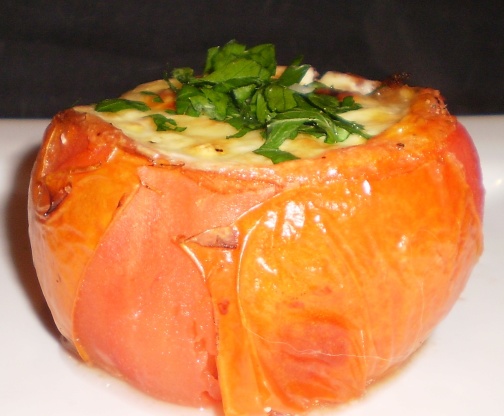 From "Tapas", I sometimes serve these for brunch with a thick slice of ham and bread fresh from the oven. If you can't find Manchego in your deli please feel free to use a good quality Parmesan instead.

Top Review by Tisme
Oh Julie, we loved these. I have a similar recipe posted without the cream............ ohhh it needs the cream, tastes a bit like scambled eggs in a baked tonato...AND...I love both, so this was a taste sensation for me! Easy and so very tasty, I used pasrmesan cheese and this recipe was sooooooo wonderful. Served with bacon on toast................WONDERFUL! Thanks I will be making this again.
Preheat the oven to 350°. Cut a slice off the tops of the tomatoes and scoop out the pulp and seeds without disturbing the shells. Turn upside down and let drain for 15 minutes. Turn right side up and season the insides with salt and pepper.
Place the tomatoes in an ovenproof dish just large enough to hold them in a single layer. Carefully break 1 egg into each tomato shell, then top off with 1 tablespoon of cream and 1 tablespoon of grated cheese.
Bake in a preheated oven for 20-30 minutes, or until the eggs are set to your liking. Serve hot.